LINDA'S RECORD OF PROFESSIONAL ACHIEVEMENT AND COMMUNITY SERVICE:

2016
- Published Eden Cooking School Demonstrators' Recipes, First Edition, Toronto, on February 29
2012
- Began researching and presenting on health questions
2010-2016
- Coordinated and demonstrated at the Eden Cooking School in Toronto
2004
- Completed and mounted information providing web page
- Commenced lecturing on "The Colour Code" summer of 2004
- Conceived and organized WEBb's BNI Adventure Afternoon networking event
- Attained accreditation as certified Vegetarian Cooking School Instructor
- Director, Religious Liberties, Kingsview Village Church
2003
- Director, Health and Temperance Department, Kingsview Village Church
- Revision of the Do You Know publication series
- Publication of "The Power of Personal Penmanship" in the BIG BOOK
- Received BNI's Master Networker Award
2002
- Publication of "New Home Construction" why you need a lawyer, Toronto Business Times, June 2002
- Received BNI's MVP Award [Most Valuable Player] BNI Chapter Award of Excellence
2001
- Director, Communications Department, and Church Clerk, Kingsview Village
2000
- Trekked Antarctica and Easter Island and conclusion of the 7 Continents, 7 Oceans, Millennium around-the-world cruise and return to Toronto and law practice reinvigorated
1999
- Commencement of travel sabbatical on the 7 Continents, 7 Oceans, Millennium around-the-world cruise
1998
- Offered e-mail communication with clients
- Commenced feeding the homeless, religious liberties, and nursing home visitation programme
1997
- Established new law in civil procedure in Lochwin v. Wasserman - see Explanatory Notes on Reported Cases 9, and the listing under Business Law, Corporate & Commercial, Trials and Civil Litigation
1996
- Mounting of law practice's first web page
1995
- Established new law in family law in Orzeck v. Orzeck, which clarifyies the parental obligation to pay child support to or for a child over the age of majority, who was not in communication with the parent - see Explanatory Notes on Reported Cases 10, and the listing under Family Law and Civil Litigation
Linda H. Kolyn: The Litigation Lawyer Who Gives Her Clients 'Unfair Advantage in Law'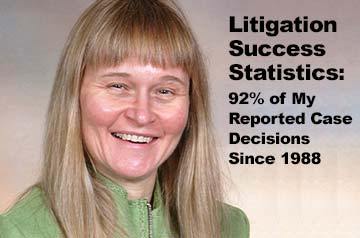 * Although I make Herculean efforts to win for each and every one
of my clients, each case is unique, and past success rates cannot
be extrapolated forward mathematically to your matter.
Watch me explain my LitigateToWin philosophy in my video.
** See my Reported Cases.
Feedback About Linda Kolyn 's Legal Work From Many Satisfied Clients...

• "Hi Linda. Thanks to you, my life is back to normal. Hurray. D"

• From the client who had to decide which of two legal avenues to pursue: "HI Linda, I am blessed with your brain! Thanks for pulling this together..."

• "Thanks for your prompt and thorough reply Linda to all of my concerns... CM"

• "Thank you Linda for your ongoing level of awesome competence! ....And also keeping me in the loop:) CM"

• From the teacher who needed independent legal advice on the revocation of her head of department job grievance,and got her head of department status locked in for the balance of her career: "Thank you for the receipt and all the advice. It was very helpful. NJ"

• "Hi Linda, many thanks for the effort you dedicated in resolving the racial and marital status discrimination issue in my workplace and your well wishes. I am grateful... regards, DA"

• "Hi Linda, Thanks a million for your kind help and understanding... Blessings, VJ"

• "Dear Linda, thanks for accepting to help me resolve the harassments against me at my work place... thank you, Daniel"

• "Linda, thanks so much for the legal advice. It's nice to know that there are people out there who care. Regards, Richard K."

• From the employee who was terminated because the boss did not like her personality: "Linda I want to thank you for all your help and support. I hope you do not mind if I stay in touch occasionally. DC"

• "Many thanks for the consultation. I feel comforted. Regards LP"

• "Hi Linda - Thank you so much for this great explanation to the options on hand to tackle our problem with... Z.W."

• "To a brilliant and outstanding lawyer- three dozen roses for three years of devotion and hard work on my behalf.Best wishes for your future. RCM"

• From an estate trustee and beneficiary for whom a legitimate exemption from Ontario probate tax on her parents' home was found: "Hi Linda, Thanks very much... Thanks again for 'shepherding' this through and I look forward to receiving the wills/estate documentation. Take care, VM"

• From the lady whose dream kitchen became an expensive unfinished nightmare: "I hoped that I have answered all your questions. Thank you for all your help in this matter Linda. We really appreciate it."

• From the matrimonial client who was getting the typical bad deal from her ex-spouse when dealing with him directly: "Linda, Thanks & good luck" CK (sent on a humorous card that said that she felt like she was three storeys tall)

• "Linda K is a good speaker, knowledgeable, efficient, quick-witted, has good legal sense, laughs a lot, has various products (in law) that relate to any BNI member, dedicated, able to express her business and its offerings in a clear and concise manner. Well spoken, warm, friendly and approachable."

• "Linda, thank you for your advice and assistance with my severance matter. Your thoroughness and tenacity enabled a very fast settlement, exceeding my expectations. Your patience and ongoing communication gave me the confidence that I had made the right choice to have you represent me and handle my case."

• "After seeing two lawyers, who said they could not assist me in my estate-matrimonial matter, one of them referred me to Linda Kolyn. Linda insightfully formulated and implemented a negotiations strategy which ultimately proved successful."

• "Linda is an excellent oral and verbal communicator. I was kept fully informed of the progress of my case and Linda worked cooperatively with me, involving me to the fullest possible extent."

• "The negotiations concluded quite successfully. I received a much higher percentage share than specified in the original executed agreement, I continue to admire Linda's patience and resolve in the adversarial environment... I would recommend her services to anyone requiring skillful negotiation, or litigation representation."
WELCOME
Welcome to the current version of my web site. And thank you for taking the time to "drop in" and visit.
PURPOSES
The primary purpose of this web site is to provide its visitors with legal information relevant to the province of Ontario, and to provide insight into the adversarial process in Ontario.
The secondary purpose of this web site is to provide its visitors with an introductory insight to my client service philosophy and my unique style of legal practice.
FEATURES
Features of this web site include:
1. The Do You Know legal information series [in the areas of real estate, business law, civil litigation, employment law employee's perspective and employer's perspective, family law and prenuptial agreements and domestic contracts]. Each topic in the series is available to you in a downloadable pdf format.

2. Linda's counsels, or general legal tips and reminders (throughout all pages)

4. E-Mail: linda@LitigateToWin.ca

5. Video clips explaining parts of my practice philosophy.

6. My Reported Case, or the record of my Reported Cases. A case is reported in Ontario if the case settles, or makes new law. To the time of mounting of this web page, in June 2004, I have thirty [30] reported cases as counsel.
The case citations are included in the Case Record, for those of you who want to go directly to the reported case.
But for those of you who would prefer the significance of the case explained to you in simple and understandable English, I have included my own commentary on each of the thirty cases in the Case Record.
And since it appears that I will never get around to publishing my novel " Trials and Tribulations: Personal Memoirs of a Lady Barrister" I have included in some of the commentaries, my own observations, some benchmarks in my own development as a barrister, as well as the obligatory barrister-style " war stories".
ACKNOWLEDGMENTS
If the Law Society of Upper Canada had not suggested, in at least one of its practice development seminars, that every lawyer should have a web site, you likely would not have been viewing this site.
And if my web designers had not had the vision, and sensitivity, and tenacity to continue to prod me along the web site development trail, you likely would not have been viewing this site either.
So thanks to the Law Society of Upper Canada, my webmaster team, for the suggestion, the graphics and the code and the encouragement.
And thanks again for dropping in and checking out my web site.
COMING SOON
Coming soon will be my weblog on current legal issues, and further legal musings.
Hope to have the pleasure of being one of your web destinations in the future, as your time permits and your need or interest arises. And I hope you have enjoyed my site.

Toronto ON Canada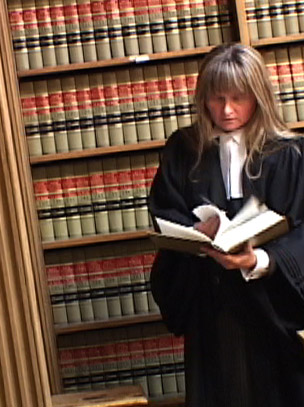 OF SPECIAL INTEREST:
Eden Cooking School's blog features cutting edge vegan/vegetalien health information, product reviews and information sessions for persons interested in vegan cooking and lifestyle.
Linda Kolyn, LL.B.
Barrister & Solicitor
Bloor Islington Place
3280 Bloor Street West
Suite 1140
11th Floor, Centre Tower
Toronto Ontario
M8X 2X3

Tel: 416-236-8746
Fax: 416-236-9745